Read Time 5 mins
19/04/2022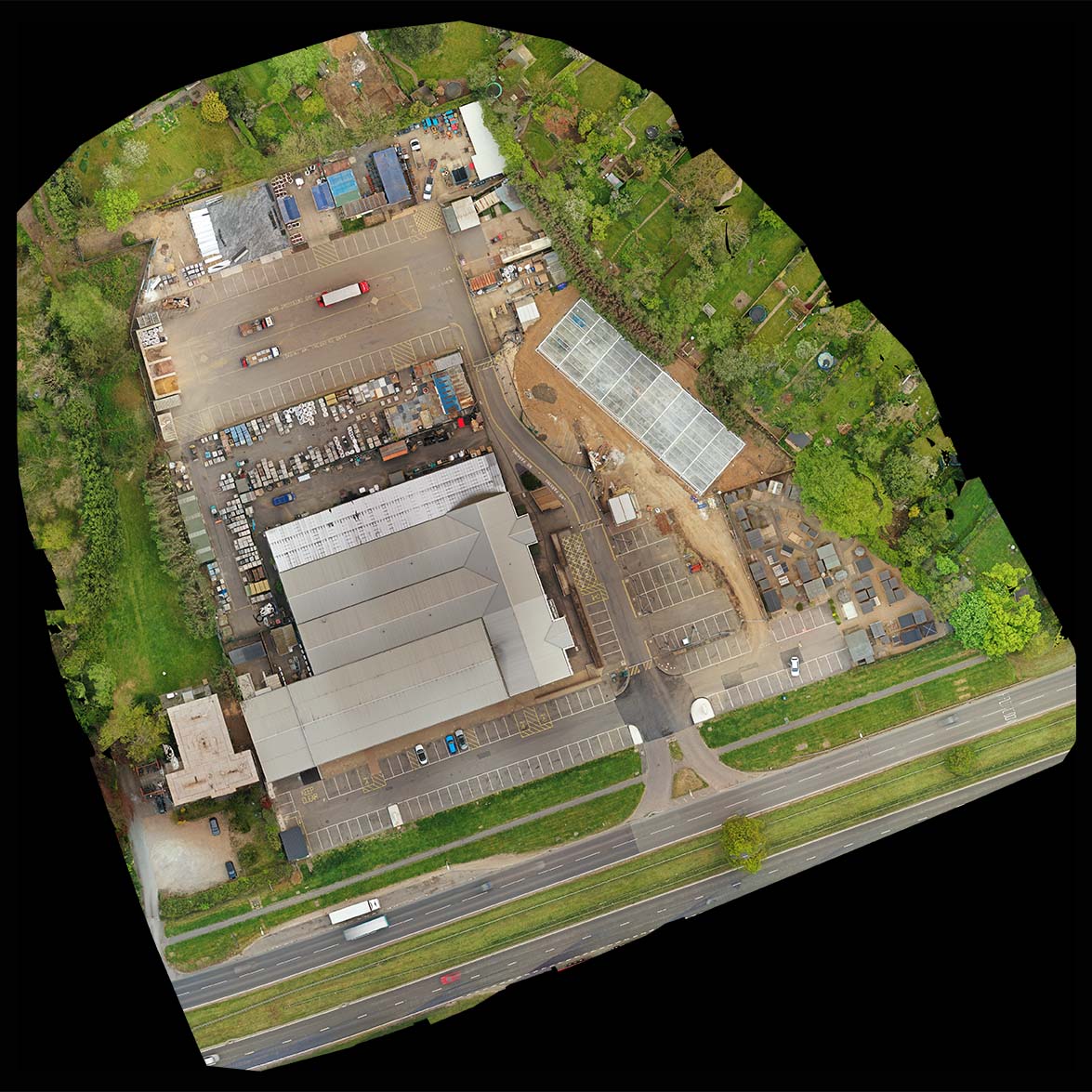 Orthomosaic Maps With A Drone
Drones are fast becoming an important asset in the construction and building industry. Using orthomosaic maps significant time and money can be saved on all sizes of projects. This article will explain what an orthomosaic map is, what it can be used for and the advantages of using drones to create orthomosaic maps for your project.
What is an Orthomosaic Map?
An orthomosaic map perfectly represents an area of land, it is an accurate representation of the geography of the area. They are a bit like satellite images, such as Google Earth, but unlike satellite images the data is totally up to date, the physical representation is far more accurate and the quality is significantly superior.
The orthomosaic map is created by piecing together hundreds if not thousands of separate, but overlapping, photos (orthophotos) taken by drone. Using GPS data that the drone tags each picture with the photographs are then orthorectified to create a geometrically accurate picture of the land.
Normal aerial photos have a perspective view, an orthorectified image is geometrically accurate creating a perfectly straight down view. Orthomosaic maps have no distortion and are to a uniform scale.
The orthorectification process corrects for:
Lens distortions
Camera tilt
Perspective
Topographical relief
Elevation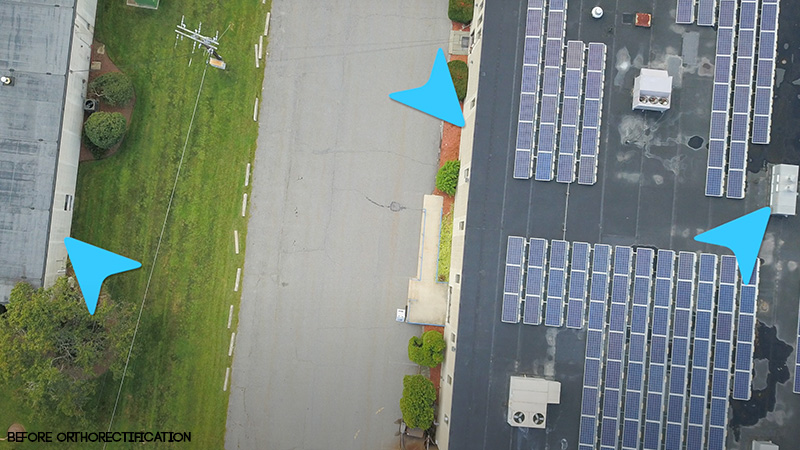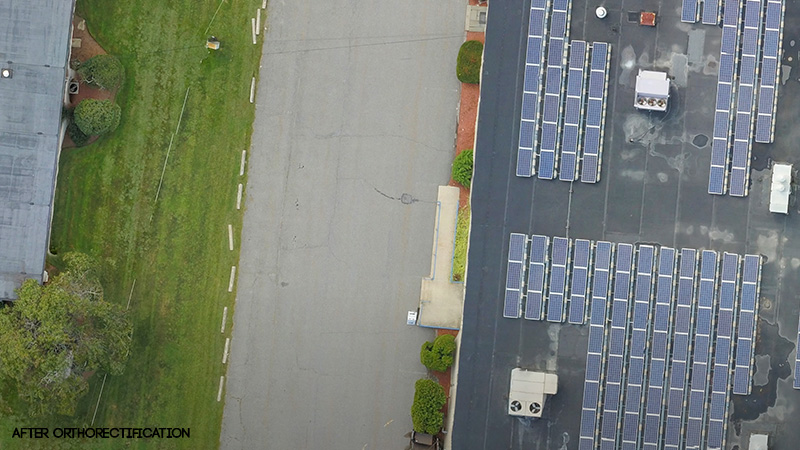 Orthomosaic maps can be produced quickly, easily and cheaply allowing imaging to be carried out more regularly. Some projects even requiring imaging to be done on a daily basis.
The costs of using a drone operator to create an orthomosaic map are negligible compared to the cost of even the smallest project, especially bearing in mind the savings that up to date data can provide all involved.
Uses of Orthomosaic Maps in Construction
An orthomosaic map allows for accurate measurements to be made of the land and can be used to streamline every stage of a construction project.
Orthomosaic maps can help project teams with:
Documenting project progression
Improving communication with all agencies involved
Dynamic & timely decision making
Keeping clients informed of progress
Fast & safe site inspections
Locating areas of workflow that can be improved & streamlined
Observation of hinderences/stoppage
Checking conformance to schedule
Assessment of quality of work
Assessment of stored supplies
Asset monitoring
Resolving scheduling issues with staff and supplies which may have occurred due to lack of up to date information
Dispute resolution
Evaluating compliance with appropriate regulations
Topographical surveys
Locating drainage spots
Studying vegetation
Studying water ways
Optimising grading & earthwork plans
Comparing differences from "as built" to the original plans
CAD drawings can be overlayed to check for errors and that drainage and utilities are located correctly.
Drone maps are routinely being used to monitor projects, to keep records and document progress.
Advantages of Orthomosaic Maps
Drone surveying of a site is time-saving, thorough, reliable, clear and can be done inexpensively on a regular basis to ensure the most up to date data is being used.
Traditional methods of site monitoring involved boots on the ground which was inaccurate, incomplete (not all areas being accessible), time consuming and not very regular. Once the survery had been completed the situation would have changed significantly.
Improved Communications
With numerous agencies, from architects, clients, investors, contractors, banks to workers, being involved in construction projects data can be shared quickly and easily. Disparate stakeholders are able to be kept up to date especially when project meetings are taking place virtually. The resultant maps are normally cloud based so easily shared amongst all interested parties.
Quicker & Improved Decision Making
With up to date and accurate information from drone mapping project managers can make quicker and more strategic decisions avoiding costly mistakes, saving time and money and keeping the project on track.
Safety
Aerial mapping is helping contractors spot and assess safety risks and potential hazards where in the past these have been spotted too late avoiding injury and expensive litigation.
Dispute Resolution
As the orthomosaic map represents a complete and up to date picture of the site disputes can be easily resolved or, preferably, avoided. With drone mapping being used to keep documents it is much harder for any parties to dispute issues down the line. Drone maps are increasingly being used in courts to resolve legal cases.
Save Time & Money
Ultimately the use of inexpensive, safe and accurate orthomosaic drone mapping will save time and money allowing all agencies to then concentrate on new profit making projects.
Contractors using drones are able to stay ahead of the competition, winning more clients and maximising profits.
Conclusion
This article explains that if you are in the building/construction industry why you should be considering the regular use of drones in your projects and how they can offer an almost immediate return on investment.
Carrot Drone Services are experienced drone operators having held CAA approval since 2015 and are fully insured.
Please contact us now to discuss how we can help you improve efficiency and drive down costs of your projects. We will carry out your first drone orthomosaic map for free.
Please note that orthomosaic maps are not guaranteed to have survey grade levels of accuracy.